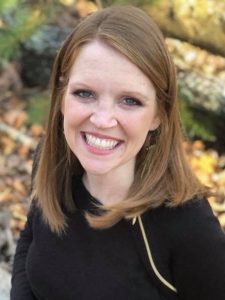 Special Education Teacher
Ms. Carrie's passion for working with special needs students began when she worked at Camp Glisson during her junior year at college and was introduced to Camp Sparrowwood. She went on to receive her Bachelors of Science degree in human development and family studies from Lee  University and her Masters of Education in multiple and severe disabilities with a concentration in autism and behavior from Georgia State University.  Ms. Carrie is also a certified AutPlay therapist.
Ms. Carrie has had the privilege of working with children and young adults from age two through late twenties in multiple learning environments including public school and one on one in home therapy. She has taught a wide range of skills from basic language and learning skills, general education and individual education plans to social skills and independent living skills. She has three boys, ages 10, 8, and 2 and has been married to her college sweetheart for fourteen years. She also likes to garden, craft and spend time outdoors with her family.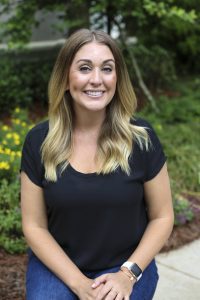 Occupational Therapist
Ms. Kelly is a registered and licensed occupational therapist, with a certification in sensory integration and therapeutic listening. She received her bachelor's in health and human science, exercise science from Georgia State and a master's degree from Brenau University in occupational therapy. Ms. Kelly is also a certified AutPlay therapist.
Ms. Kelly has worked in outpatient and inpatient clinical and school settings and worked with a wide range of diagnoses, such as autism, SPD (sensory processing disorder), learning disabilities, ADD/ADHD, developmental delays, and neuromuscular disorders.  Ms. Kelly enjoys painting, being outdoors and spending time with her family and her labradoodle, Cullen.
Speech Language Pathologist
Ms. Ansley is an ASHA Certified and Georgia Licensed Speech-Language Pathologist. She received her bachelor's in communication sciences and disorders with a minor in education from the University of Florida and a master's degree from the University of Georgia in communication sciences and disorders. She is also a certified AutPlay therapist.
Ms. Ansley has worked in outpatient clinical and school settings with children with a variety of disorders such as; autism, down syndrome, Cerebral Palsy, hearing impairment, learning disabilities, developmental delays, ADD/ADHD, Apraxia of speech and Phonological disorders. She is trained in the Kaufman speech praxis method, as well as Beckman oral motor assessment and intervention. Ms. Ansley is an Atlanta native and enjoys spending time outdoors with her husband and four children.
SaveSave
SaveSave
SaveSave
SaveSave
SaveSave
SaveSave
SaveSave
SaveSave
SaveSave
SaveSave
SaveSave