Cornerstone Preparatory School For Therapeutic Education (CPS) was founded in 2017 by the Gummels Family. We are hybrid homeschool sharing in the cost of educating our children. At CPS, we integrate a therapeutic and remedial academic approach into every aspect of our program.  Our team is made up of a special education teacher, an occupational therapist and a speech language pathologist.  Classroom size is small in order to focus on the specific needs of each child.  We serve able bodied, developmentally independent, high functioning children who are able to fully participate in the program academically, emotionally and physically. CPS is not an appropriate placement for children with emotional/behavioral disorders.  Currently Cornerstone Preparatory School for Therapeutic Education functions in a homeschool capacity.
CPS uses a unique collaborate approach in conjunction with both a kinesthetic and visual curriculum to target the whole child; academically, socially, emotionally and physically.  Children can flourish developmentally and socially as any weaknesses in language development, fine motor development, sensory processing and learning delays are addressed.  In addition to our unique  academic curriculum, we integrate social and daily living skills in and out of the classroom through real world experiences.  Although we have chosen to no longer focus on our blog, older posts remain to provide insight into our approach.
Our Story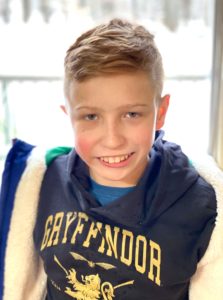 Wyatt spent eighteen months in the Stepping Stones program at Atlanta Speech School where the classroom is staffed by a Speech-Language Pathologist, an Occupational Therapist, an Education Specialist, and an Assistant Teacher.  Wyatt went from almost non-verbal to quite the chatterbox in just eighteen months.
Unfortunately the Stepping Stones program ages out at age five and we were forced to find a new school for Wyatt. After visiting multiple schools in the Atlanta area we decided on a private special education school that touted a therapeutic approach but after almost two years we recognized that the school was not delivering on their promise and tests showed that Wyatt had in fact made very little progress.
Having had both excellent and poor school experiences allowed us to see what works and what doesn't. Incorporating Occupational Therapy and Speech Therapy are critical to a child's success as therapy targets multiple facets of their education.
In our classroom an Occupational Therapist prepares the child for cognitive learning by first regulating the child's sensory system. A child has a far greater chance at academic/cognitive success when their central nervous system is regulated first.  Once a child is regulated, skills such as fine motor development, gross motor skills, and visual perceptual skills can be addressed through therapeutic and academic activities.  Click here to learn more about Occupational Therapy in the classroom. Our speech language pathologist works closely with the students in the classroom and at social gatherings to develop their pragmatic speech, expressive language and fluency skills as well as social emotional behaviors. Click here to learn more about these skills and how they are covered in the classroom.
All of our therapists are also certified AutPlay therapists.  AutPlay therapy is a play and behavioral therapy approach to working with children affected by autism, attention deficit hyperactivity disorder, dysregulation issues, and other neurodevelopmental disorders.  AutPlay Therapy incorporates a combination of structured play therapy interventions, behavioral approaches, and relationship development to improve skill deficits in the areas of emotional regulation, social functioning, and relationship connection. Click here to learn more about AutPlay Therapy.
At CPS we are fortunate to have a 'super team' of teachers and therapists who constantly seek the best methods and resources available to the individuals we serve because we believe there is always something better.  We also understand that our students do not fit a "one size fits all" program. The program must be tailored to the child.  At CPS we not only create a therapeutic educational environment designed to help each child reach his or her full potential in school and in life but also foster joy in relationships and a love of learning.
SaveSave
SaveSave
SaveSave
SaveSave